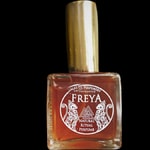 Magical oils
Natural oils, scents and aromatherapy colored in spirit and magic.
Author is Moi Yggdottir.
Art, magic, nature and transformation.
Bottles and jars are my canvases and plant essences are my colors and together they help me tell stories in memories and emotions.
I create scents to make concepts, deities, Gods and human personalities manifest. I make magic happen sometimes too, as pure plant essences, intentions and deep interpersonal connections during the creative process can be profoundly transformative for everyone involved.
Does it sound vague yet very complex? That's because it is. But that is the beauty of it.
My creations have all been born in my hands and warmed by my skin. And before that, they were a part of nature.
All scents are vegan (though some may include organic beeswax or honey extracts).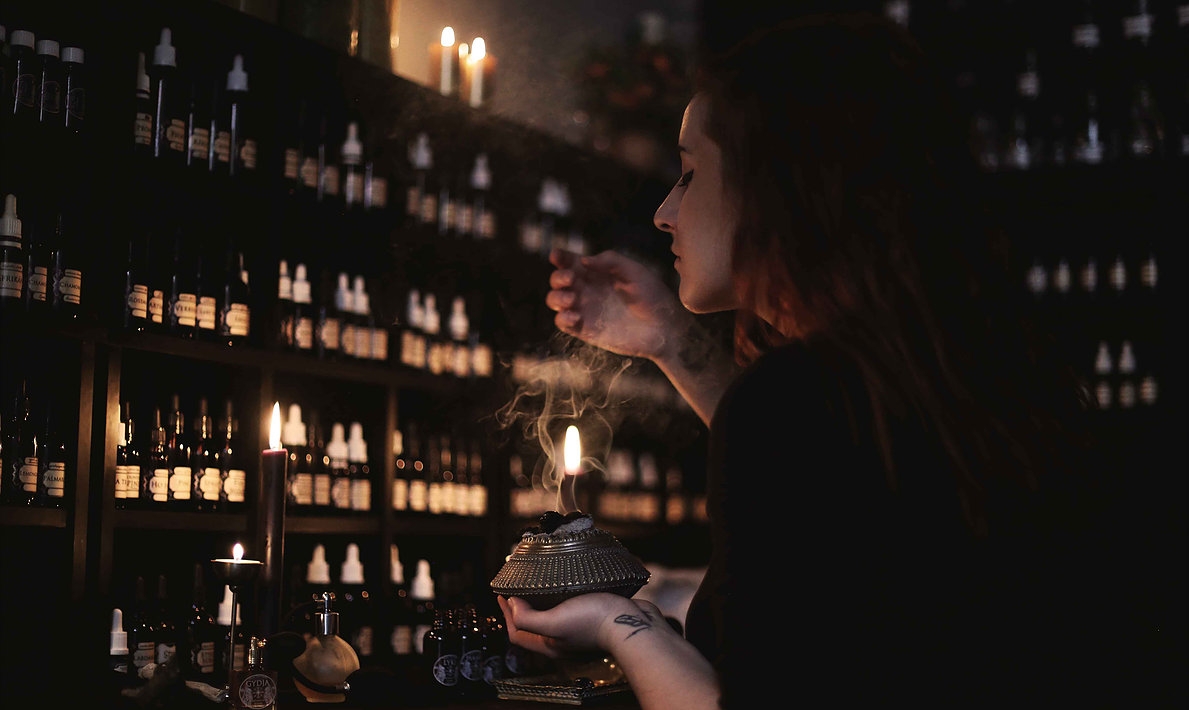 These natural botanical essences are olfactory interpretations of the Norse concepts of wyrd and orlog; fate and destiny in general. Urd - earthy scent of wet moss, fresh herbs, soil and lasting, complex woody notes.This essence is made with only the finest natural essential oils and …
The new esence Odin is a bit dark but warm and woody, reminising of the warm glow of a night campfire, the pilgrims sense of security amidst wildlife. Soothing woody notes of sandalwood, cedar and Peru balsam in this fragrance mingle with earthy hints of late dew that carries the scent of fallen…
The Norse soul collection is a collection of pure botanical perfumes made with highest quality rare ingredients. Lyke has a deep, earthy scent that mirrors the physicality of the human body. It combines musky base notes of patchouli, balsams and natural agarwood with warm sweetness of vanilla, and…
Freya has long been one of the staples of our collection and remains one of the most popular scents today. Yet every time I try to describe her, either in person or in writing it is very hard, as her scent as the goddess herself can be very ungraspable in words. If I had to I would compare it to…
Verdandi - Warm floral scent combining classical carnation with turkish rose with flesh hyacinth and a myrrh-frankincense base.This fragrance is made with only the finest natural essential oils and ingredients, that are blended into a base of fermented alcohol and bottled in a handmade Czech glass…
The Völva, the seeress, witch and shaman glimpses the past and the future. Her spirit travels the nine worlds, to call on the dead and speak to the gods. Her hands spin spells and destinies. This botanical perfume is full of strange and unusual notes of saffron, mimosa and night blooming jasmine…
The Norse soul collection is a collection of pure botanical essences made with highest quality rare ingredients. Gydja combines intricate floral notes of mimosa, jasmines, and cestrum with sensual cinnamon, sandalwood and galangal roots with a base of myrrh, turmeric and patchouli.Gydja (or Godi)…
Thor: While staying true to the warm and embracing character of the protector God Thor, more woody and musky undertones were added to truly capture the strength of this powerful deity. Main scent of wood - sandalwood, spruce, rosewood, animalistic - labdanum, patchouli, nard.
The Norse soul collection is a collection of pure botanical perfumes made with highest quality rare ingredients. Fylgja has an animalistic musky scent with hints of spices and combines notes of labdanum, saffron, tonka beans and beeswax with sweet vanilla and a heart of turmeric, styrax, and…
This Botanical Perfume is a fitting tribute to the receding winter and coming spring, with rich and warming florals, bittersweet almonds and deep, woody base. The Goddess Hel is the ruler of the Norse underworld Helheim, where those who peacefully died come. As such she is the archetype of the …
The Norse soul collection is a collection of pure botanical perfumes made with highest quality rare ingredients. Önd is a light, breathy herbal, inspired by smudge rituals, and the healing and cleansing power of herbs, it features main notes of lavender, artemisia, sage and galbanum with a base of…
Natural perfume oil inspired by Norse mythology. Skuld - Light, ethereal, dreamy floral scent combining white and pink lotus, blue waterlillies, sage and a base of various boswelia. Together they layer into a complex tree of scent, forming root, stem, leaves, flowers and the wind that rustles the…
Main notes of lemon, mandarin, bergamot, woods and spices - elemi, nutmeg, ajowan and beeswax absolute. Loki is a master of transformations, disguises, a trickster and a tease. Justice and the concept of good and evil in his administration are often not as black and white as many of us see, and he…
Týr, the Warrior God, is the heaviest, by far the most masculine scent we have carried so far. Týr is the strongest and most honest of gods and his strength and loyalty is reflected in this musky, woody scent of cedar and balsams which mix with thick benzoin, earthy vetiver and bay leaves topped…
Lokkr is the art of compelling and calling something towards the magician. It is the art of affecting change from the inside. The sweetest songs, most alluring words and the most irresistible of commands come from the breath, yet they are gentle and fragile, like the tones of violet leaves in the…