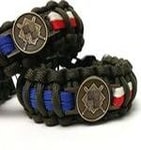 Survival
Bedürfnisse für das Überleben und bushcraft - Falten Taschenmesser, Verbandskästen, Paracord Armbänder, Sägen, Zangen, im Freienwerkzeuge, Unterstände, Navigation, Feuerstarter.
The modern version of the traditional jungle tribesmen's machete, the Broadcut Machete is as effective as the name suggests. The heavy fine edge blade is corrosion resistant and makes short work of dense brush. An innovative hook + cut notch is engineered into the blade, an ideal tool for…
SOG key knife
Blade length: 41 mm
Handle length: 68 mm
Total length: 109 mm
Weight: 22 g
Ultralight and folding bottle ideal for all sport usage. It is about half lighter than usual hydratation bottles and thanks to its patent much more storable - you can fold it up to one quarter of its regular size. Indispensable supplement for performance sportsmen. It is made from very resistant…
Gerber questioned hardcore anglers from across the nation, filtering that feedback into the design of one seriously inspired fillet knife: the Controller. Across different locations and species, one point rang true: an insightful fish fillet knife can make short work of messy business. No matter if…
World famous Sportsman's Axes are the choice of outdoorsmen everywhere. This axe is forged in one piece with a genuine leather grip. A must for all campers! Each axe comes with a heavy duty nylon sheath. Cutting Edge: 3-1/4" / 83 mm Overall Length: 13.5" / 343 mm Solid America Steel Hand Sharpened…
Only for bottles by Wenger
Special Edition Camper's Axe. Product Description. Estwing's Special Edition Camper's Axe is our solid steel camper's axe with a non-reflective matte black finish. It also comes with Estwing's world famous and patented Shock Reduction Grip. The most durable and reliable grip put on any striking…
Estwing's Fireside Friend® Splitting Tool is forged in one piece. The handle length and weight give leverage and power for easy wood splitting. Solid America Steel Hand Sharpened Edge 2.375" edge / 60 mm 14" length / 356 mm A weighted axe specifically designed for splitting Blue Shock Reduction…
The Walther MachTac 4 - a top class bush knife is delivered including a nylon sheath with a belt loop. Product features: Compact and handy machete Matte black coated tanto blade Rubberized polymer handle Technical specifications: Blade material 440 Locking fixed Blade shape machete Handle…
The SOG FastHawk is faster, lighter, more agile, and easier to carry than its sibling the Tactical Tomahawk. This is not to say it is not still powerful, versatile, and functional. It is a tool that will be used for much more than you might anticipate. Chopping, breaking, cutting, hammering,…
Sturmsichere Flamme
Verstellbarer Micro-Brenner bis 1300°C
Piezo-Zündung
Gas nachfüllbar
Nicht reflektierend
Leise zu öffnen / schliessen
Leichtgewicht
Clawgear, Österreich.
Láhev od americké značky Nalgene.
Objem: 1 litr
Váha: 180 g
Treated wood shavings that will catch a spark. The natural way to start a fire
By Web-Tex, United Kingdom
Splitting Maul with a wooden handle (hickory).
Weight: 3kg
Length: 90 cm
Perhaps the most simply designed tool in your arsenal, this key chain companion should not be underestimated. With 7 essentials functions built in, this airline-safe tool is ideal for everyday travel and tasks. A titanium nitride coating protects against corrosion for long use. Features 7 Functions…
The new World Legal Urban Tactical Knife was developed with one goal in mind, make a great knife that anyone can carry, anywhere in the world. World Legal Knife Balancing form with function, the World Legal was born from one idea: make a great knife that can be carried anywhere in the world.*…
Gerber Knives offers this special combo pack with both a Paraframe I folder and the smaller Mini Paraframe knife. The larger knife has a combo edge clip point blade, while the smaller has a plain edge clip point blade. Both finished with a Mossy Oak pattern handle. Features: Paraframe I Overall…
With a full tang, 420HC steel blade and rubberized diamond-texture grip, this is a knife you can rely on. The MOLLE-compatible multi-mount sheath system offers optimal customization, keeping your knife ever at the ready in combat situations. Plain edge, full tang 420HC steel blade Ceramic blade…
Estwing's Special Edition Sportsman's Axe is a solid steel, axe with a non-reflective matte black finish. The grip is a beautiful genuine leather. Solid America Steel Hand Sharpened Edge 3.25" edge 13" length Matte black finish on face and neck Genuine Leather Grip Black Nylon Sheath Included Size…
Schrade SCAXE10 Camp Full Tang HATCHET with Stainless Steel Blade and TPR Handle for Outdoor Survival Camping and Everyday Tasks. material 3Cr13 stainless steel blade, termoplastic rubber wrapped handle overall length 28.1 cm (11.1 in) blade length 9 cm (3.6 in) weight 690 g (1 lb 5.9 oz) …